Nacho Yagüe
Will be with us on NonStop Visual Development Seminar. The program will be soon updated, stay tuned.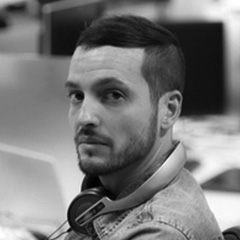 COUNTRY:

Spain

DATE:

Coming Soon
About
Nacho Yague has 12 years of experience as a Video Game Concept Artist.
After working at Tragnarion Studios for two years, Yagüe began working for GRIN, a Swedish video game developer. 
Featured Projects
After finishing games like Wanted: Weapons of fate, he worked in Ubisoft Barcelona as Art Director on The Adventures of Tintin: The Secret of the Unicorn for the 3DS. Later, Nacho moved to Bulgaria to work on Assassin's Creed III: Liberation for a year, following which he moved again, to Toronto. At Ubisoft Toronto, he created concept art for Splinter Cell: Blacklist and Assassin's Creed: Unity.