Finnian MacManus
Will be with us on NonStop Visual Development Seminar. The program will be soon updated, stay tuned.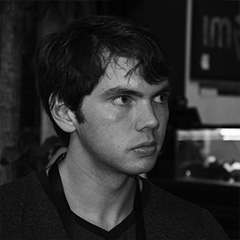 COUNTRY:

United States

DATE:

Coming Soon
About
Finnian MacManus is a Chicago-born, California-based concept artist working in the film and game industries. Self-taught 2D and 3D designer who uses Z-brush, Photoshop, Cinema 4D, and Vue to express his ideas within the sci-fi and fantasy environments.
Featured Projects
Past credits include the Avatar Sequels, Jungle Cruise, Ad Astra, The Lion King, Star Wars: Solo, Star Wars: Rogue One, Pacific Rim 2, Transformers: The Last Knight
And also some of the clients included: Disney, Industrial Light and Magic, Paramount Pictures, Lucasfilm, 20th Century Fox, Lightstorm Entertainment, EA Games, Apple, Sony PlayStation, Microsoft, Volta, Brownbag Films, The Coalition.